Mummy V had 4 guests over for lunch so totally 6 including Daddy Q and myself. So I had been wondering what to cook…
There would be two couples including Taiwanese Husband + French wife and Taiwanese girlfriend (Ruby) + English boyfriend. A few days ago, when Ruby told her boyfriend that they were coming for lunch, he asked if there would be "Taiwanese Beef Noodle Soup (紅燒牛肉麵)" and "Taiwanese fried chicken (鹽酥雞)" – apparently he loves those after visiting Taiwan!
That kind of gave Mummy V some ideas for the menu for the lunch. So here they are…
1。Taiwanese Fried Chicken (台式鹽酥雞) – I will write this another day. Promise.
3。Chicken with Scallion Oil (蔥油雞)
4。Sweet and Sour Pork Ribs (糖醋排骨)
5。Taiwanese Beef (Noodle) Soup (紅燒牛肉湯)
6。Spinach Salad (涼拌菠菜)
7。Korean Kimchi (韓式泡菜)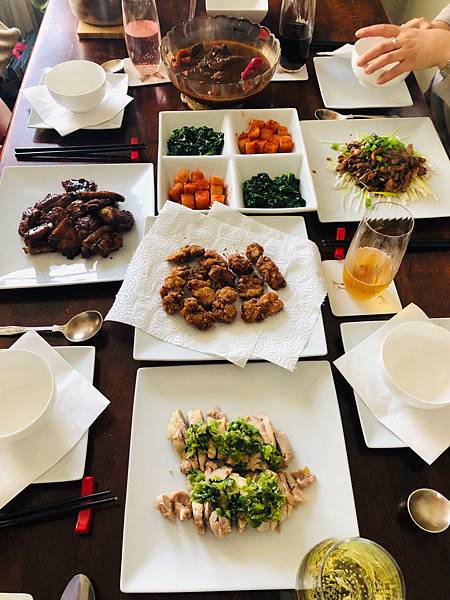 ​Mummy V was thinking to make another dish "Kaiyang cabbage (開陽白菜)" but unsure whether there were too many dishes…
Anyway, after getting really good feedback after the lunch, Mummy V decided to share how to make this dish 😀
Ingredients
Beef – 1 kg (Beef Shank will be the best, but shame Mummy V didn't find it when I went shopping!)
Onion – 2
Garlic – 8 (roughly)
Tomato – 3
Ginger slices – some
Spring Onion – 2-3
Chili – some
Carrots – 4
Step-1 Seasonings
Soy Sauce – 5 tablespoon
Rock Sugar – 1 tablespoon
Rice wine – 5 tablespoon
Spicy Bean Sauce – 1 tablespoon
White Pepper Powder – 1/4 teaspoon
Step-2 Seasonings

Soy Sauce – 9 tablespoon
Chinese Sauce Pack – 1
Rock Sugar – 1 tablespoon
Ketchup – 1 tablespoon
Rice Wine – 2 tablespoon
Method
1。Put the beef into water and boil. Remove the meaty bubbles before the water boiling and take the beef out and put aside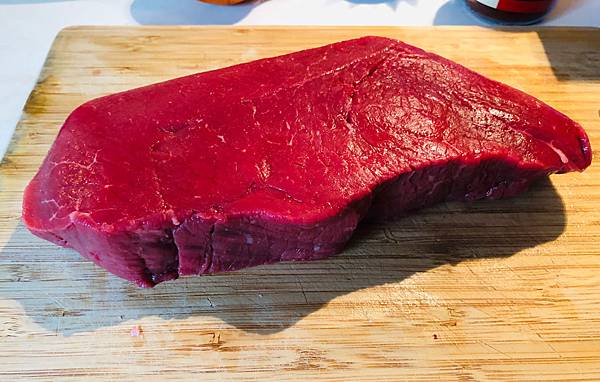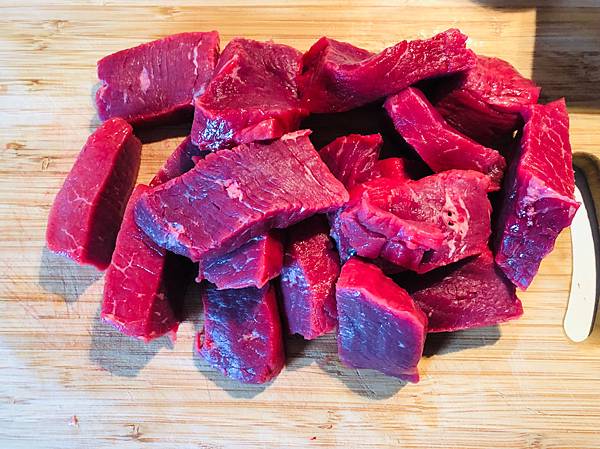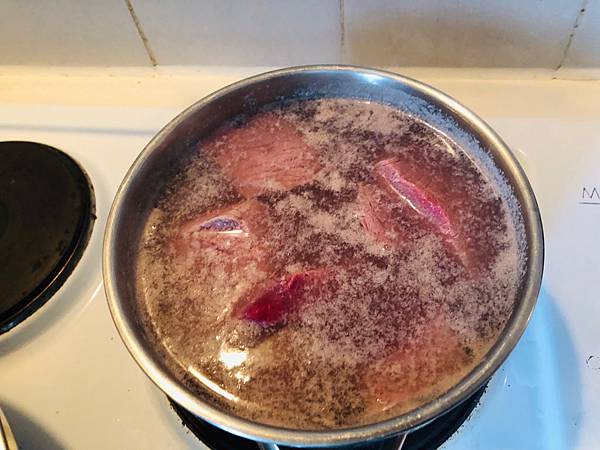 2。Heat up the oil and put in Ginger, garlic, spring onion and chili to stir fry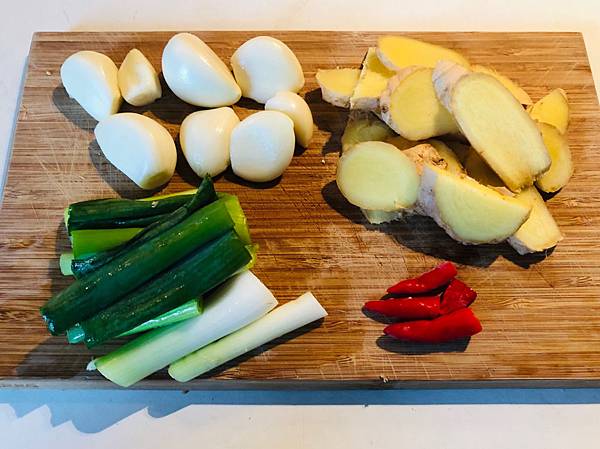 3。Once the smell is out, add the beef in and quickly stir fry it. Add the Step-1 Sauce in and carry on stir flying all.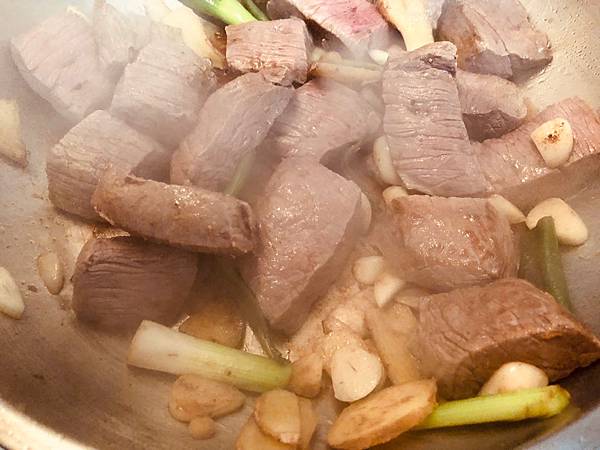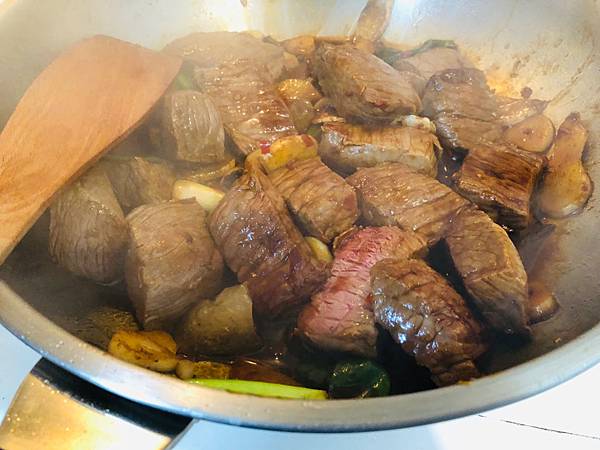 4。Add chopped onions, tomatos, and carrots and Step-2 Seasonings. Add water (around 1300cc) to cover all ingredients till it boils then turn to slow cook for at least 2 hours.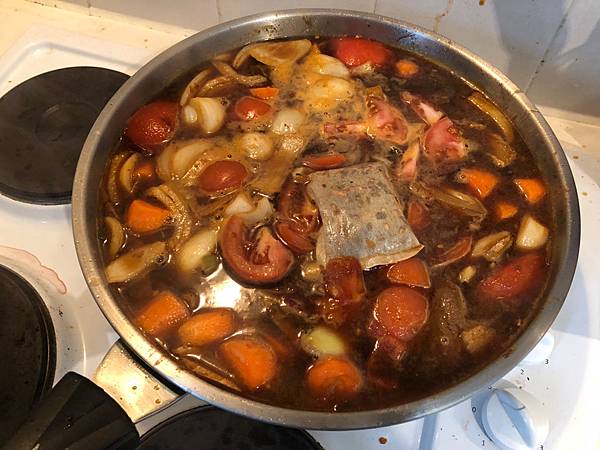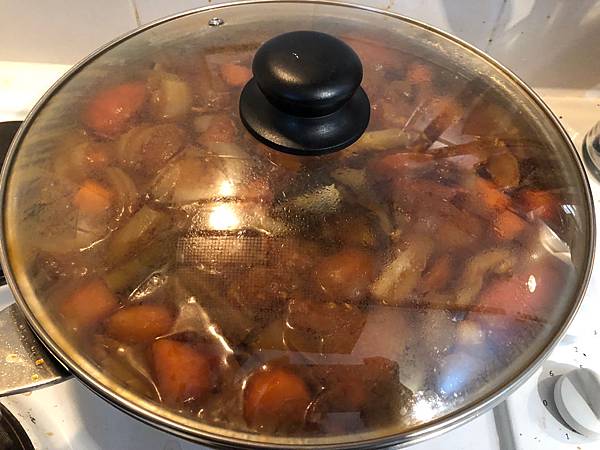 5。Here you go, the Taiwanese Beef Soup is done. If you want to make the noodle soup, just boil some noodle and maybe green vegetables (like paste) and then pour the soup and beef into the noodles after – That is Taiwanese Beef Noodle Soup 🙂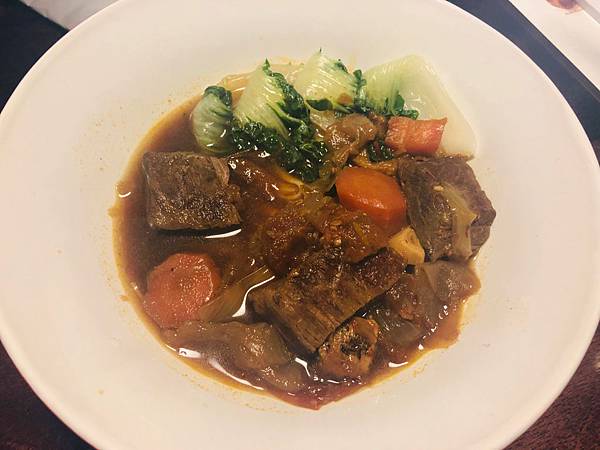 Isn't that easy? (It does take some time though)
But the feedback from my guests was really good. Especially it wasn't just coming from Westerners, also Taiwanese 😛 That makes Mummy V very very pleased.
English Friend's Feedback:
"Ruby (his girlfriend), Can you learn and make this every Sunday please?"
Taiwanese Friend's Feedback:
"I want the recipe!!"
Mummy V's Note
It was a shame Mummy V didn't find the best meat for this dish, but still really really nice – especially the soup! Yummy! It is actually not that complicated to make it and it really tastes HOME <3 Enjoy~~~! ​