Ribs! Ribs! Mummy V Loves Ribs! Sweet and sour ribs (糖醋排骨), orange sauce ribs (澄汁排骨)… yummy… BUT!!
That is a big BUT. Mummy V really don't like making deep fry dishes. Why? First of all, you have to use so much oil and just for that once – as it is not great to use it for another day and secondly… it's so unhealthy – even though most food after deep-fry tastes great (Ha)! (Not sure cakes are more healthy though~)
After some experiments, Mummy V decided to make this Sweet & Sour Pork Ribs/Chops without deep frying them! Doesn't that sound amazing?
I have got to say, it is also because I found some frozen ribs in a Chinese supermarket nearby (in Brixton). That certainly makes it much easier so I don't need to chop them myself to smaller pieces!!
Anyway, let's hope everyone would enjoy making this dish and eating them with a big smile! As always, let's have a look at the finished dish. (Mummy V is also trying to get the presentation done… oh well, at least I tried~!)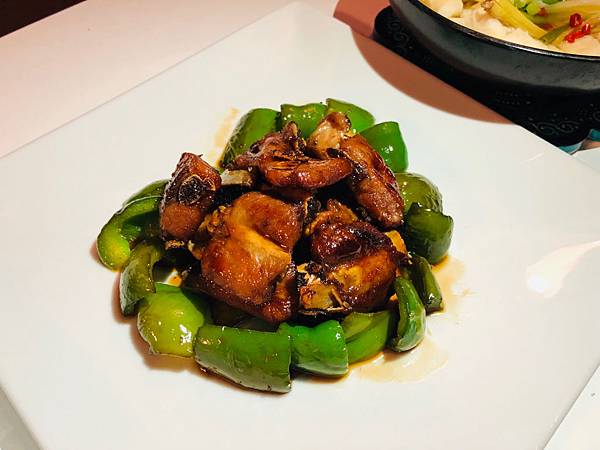 ​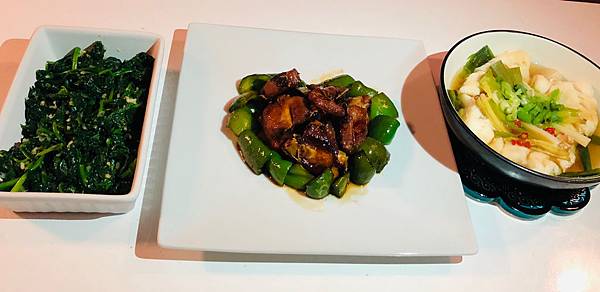 ​
The picture above is with steamed cod (right) and spinach salad (left)… give me more time to write next time…
Ingredients
Frozen Pork Ribs – 10 pieces (Mummy V only cooked 10 pieces as it was just for Daddy Q and myself – and we had other dishes too – keep some for the next time!)
Ginger slices – some
Spring Onions – 2
Sauce
Rice wine – 1 table spoon
Soy sauce – 2 table spoon
Sugar – 3 table spoon
Vinegar – 4 table spoon (I used rice vinegar)
Water – 5 table spoon
Salt – 1/2 tea spoon
Method
1。Add COLD water in the pot and put the ribs in while it is cold. Once it is boiling, remove the floating meaty bubbles and add some ginger slices, big chopped spring onions and slow cook for 35 minutes
35 minutes because Mummy V is only cooking 10 pieces of ribs – if you are cooking a lot, make it 50 minutes). On the day, due to the preparation for spinach, I have some water left from boiling spinach, so I just used it to cook the ribs (as I wanted to keep the soup after for other dishes, such a congee or noodles – nothing is wasted!)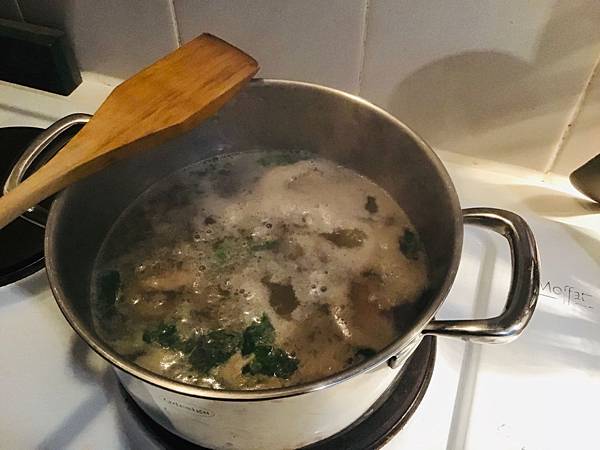 ​
2。Take ribs out of the soup once it is done (Remember, the soup can be used for soup or noodles or rice/congee! Don't waste it~)
3。Make the sauce (you can prepare this while waiting for the ribs cooked) : follow the ratio 1:2:3:4:5 above (no salt), mix well.
Remember just to keep the ratio if you cook more (or less) and the taste would be just great.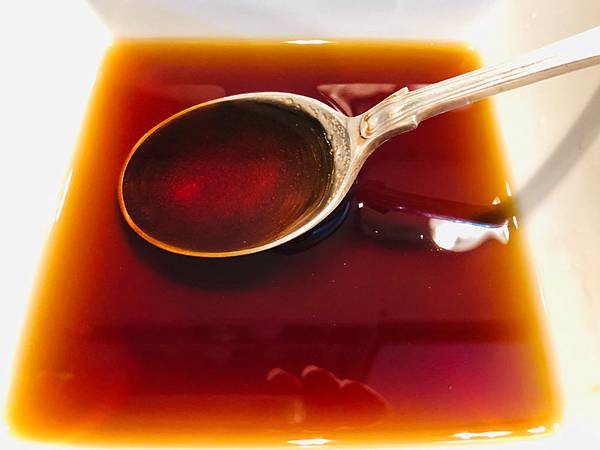 ​
4。Take a pan, add a little oil. After the oil is hot turn slow fire to pan fry ribs till they turn golden colour.   As those ribs had been cooked for a while, the bones might just come off naturally – very convenient 😛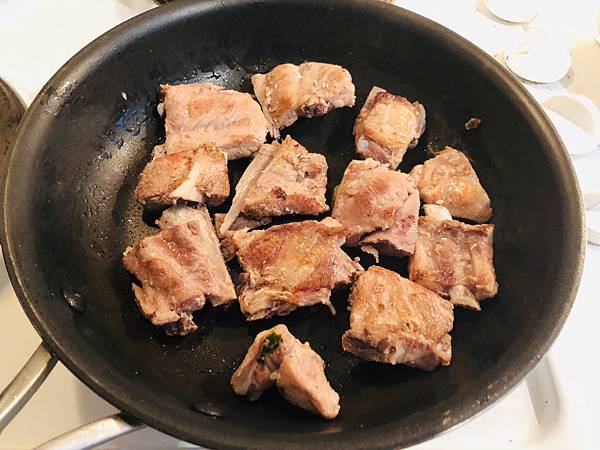 ​
5。Once the colour is there, add the mixed sauce in and use strong heat till it is boiling and then turn to slow cook for 10 minutes. Add the salt after this and heat it up again to get the sauce thick and done.
Mummy V happened to have 1 pepper in the fridge, so I just added the chopped pieces in in the last few minutes to mix with the sauce – tasted great! ( and gave it more colour too)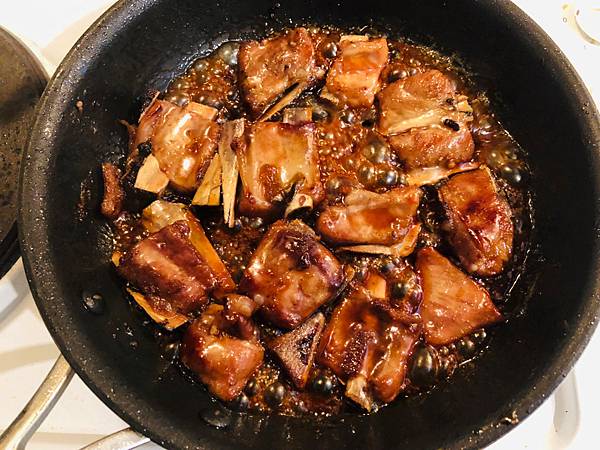 ​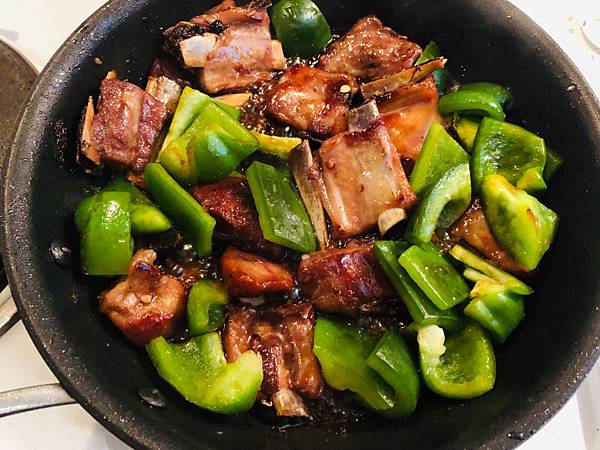 ​
Here we go~! Serve!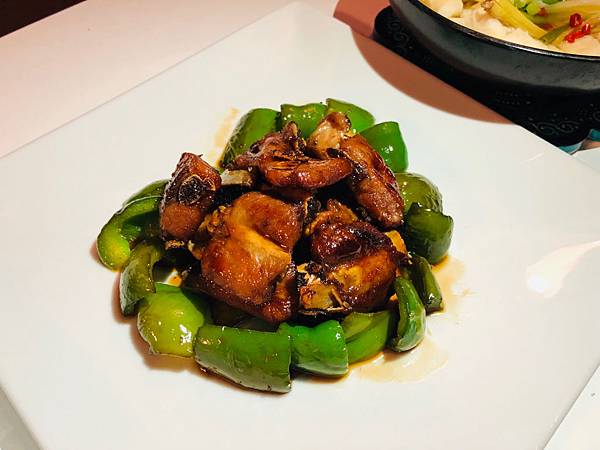 ​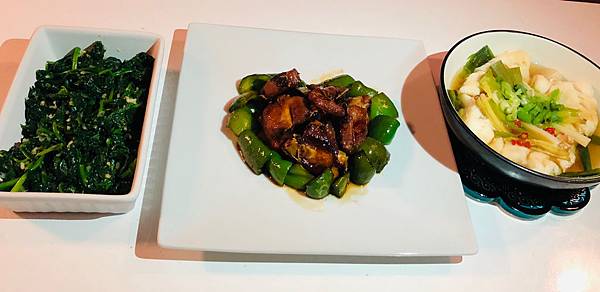 ​
Daddy Q feedback:
Love the ribs, very tasty and the sauce is great with rice (and veg)!
Mummy V note:
It is indeed an easy dish, although it takes longer as we choose not to deep fry it – need to cook long enough to get the meat soften.
However, it is worth it as we can have a healthier dish! Right? 😛
Mummy V think – this dish and Jing Jiang Rou Si are both great dishes to go with Rice.
I hope you enjoy it too.