Mummy V is actually a very lay back person… Since having a baby, work, life and childcare…life is super busy, and wouldn't want to make myself even busier by doing "unnecessary" cooking.
But since lockdown started in March 2020 in London, it naturally made me start doing it again… Brown Sugar Buns, Scallion Pancakes… all come out now…
Brown Sugar Buns… Mummy V has tried 3 times till it's successful, but Scallion Pancake was great in the first try! Daddy Q and our neighbours all loved it and asked if I would be making more!
So here I am, writing this down to share.
Let's have a look at the food 😀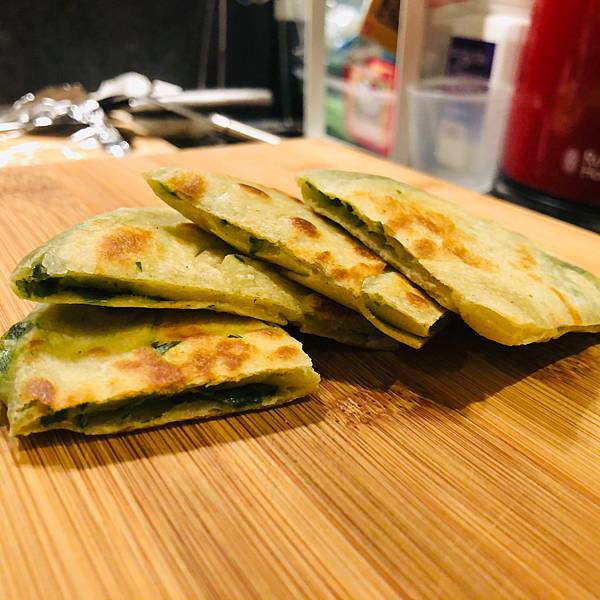 Ingredients
Scallion – a bunch (it's really up to you how much you want to add. If you like it more, you can add a lot more :D)
Oil – 1-2 tablespoon (the first time Mummy V used vegetable oil and the second time I used goose fat – just because there is lots left from Christmas…)
Plain Flour – 400 g
Salt – 5 g (going into the dough), you can add some to mix with the scallion (optional)
Boiled water – 180 cc
Cold water – 100 cc
White pepper power – some
Spinach – optional
Method
1。Sift the flour, and mix well with salt
2。Add boiled water slowly and stir and mix with the chopsticks or fork
3。Add cold water and carry on mixing till it comes together
  Making the second time, Mummy V used 50 cc of water to blend spinach to add into the dough, so more vegetables for the boy. But next time, I will probably use the whole 100 cc for that and hopefully the dough will also be coloured.
4。When it comes together, start to use hand to carry on kneading the dough till it's smooth 
   You may use a little oil to help so it's not too sticky, but in my twice experience, it is fine without.
5。Once the dough is smooth and ready, cover the bowl with the film and allow the dough to breath for around 25 minutes.
6。Now it's time to chop scallions finely. Normally you just use the green part, but Mummy V doesn't really mind, so I also used a bit white part too.
  When Mummy V was making it the second time, I also chopped some spinach to mix in! Easier to get the boy to eat more vegetables!
7。Once all are fine chopped, you can add some salt and pepper in to mix well. (Optional)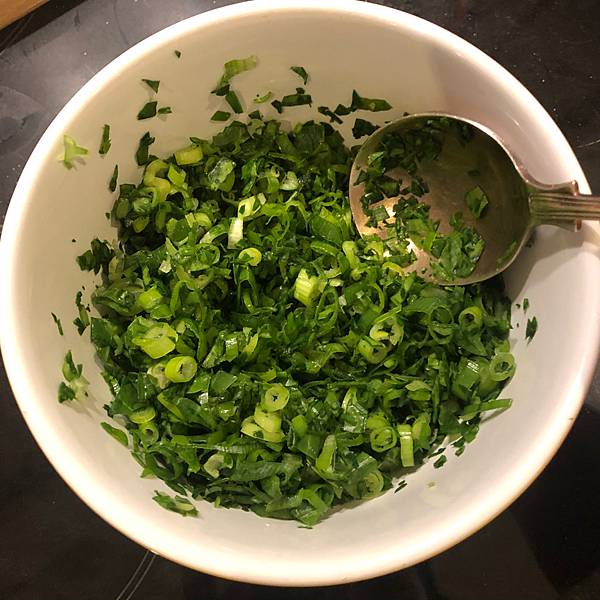 8。Chop the dough to 8 even portions (you can also make 6, if you prefer bigger pancakes)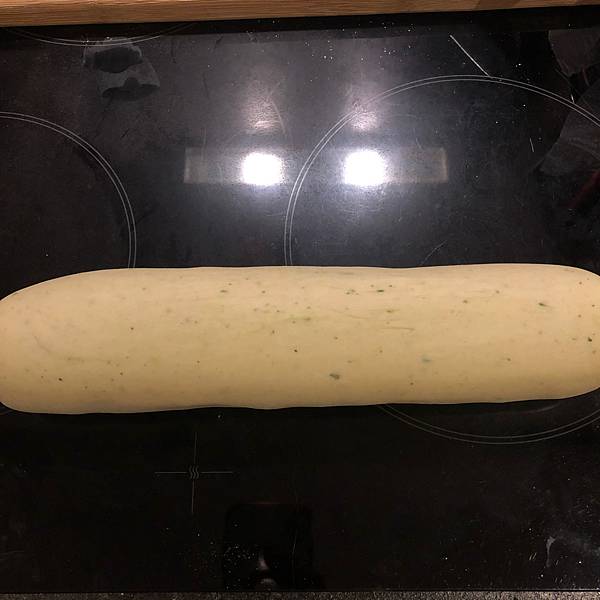 9。Roll each one out to a long round shape, around 0.2-0.3cm thin 
10。Sprinkle some salt if preferred, then brush some oil (any type) before spread scallions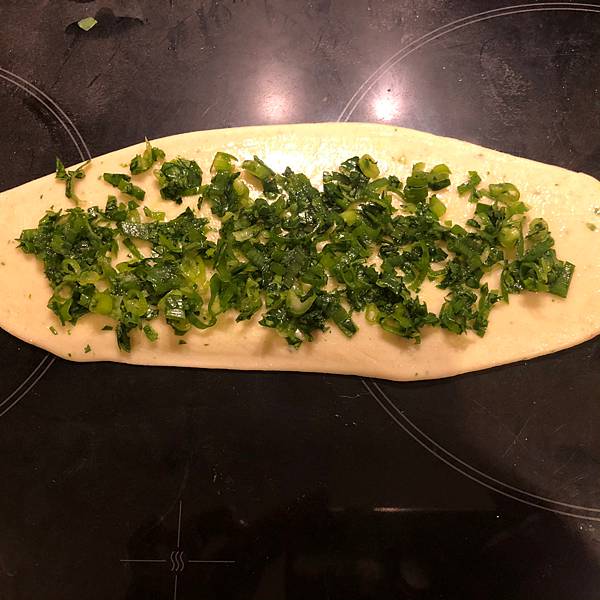 11。Roll it tight and ensure two ends are close properly, so scallions won't come out. Then "tie" a knot with it.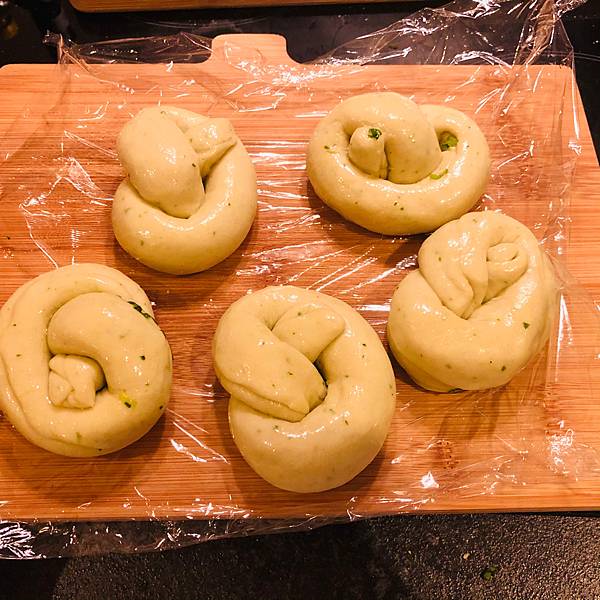 If you want to cook/eat straight away:
12。Brush some oil on the surface, and leave it for 30 minutes before roll it out to a round shape / don't roll it too thin otherwise scallions will come out!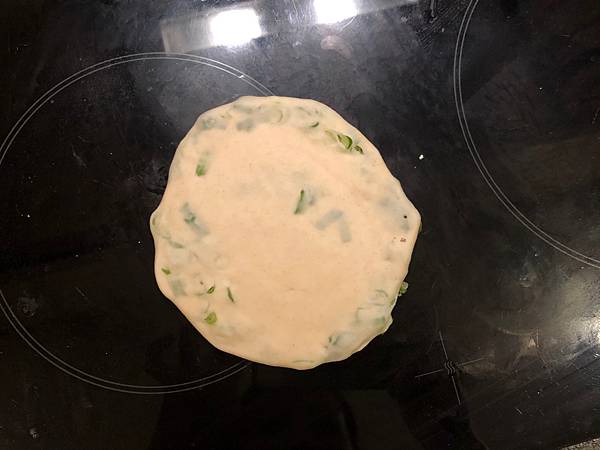 13。Heat the pan and turn down the heat to fry it so it doesn't burn.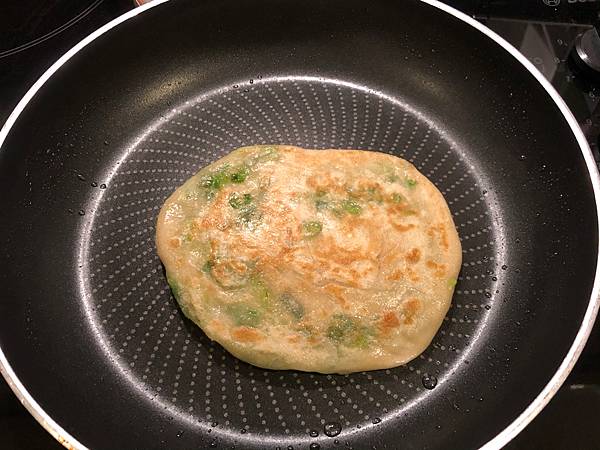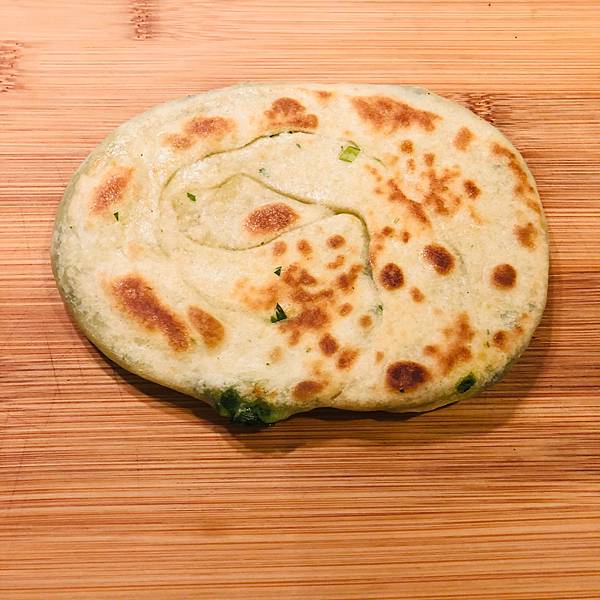 Save for later:
1:Brush some oil on the surface and wrap the "knot" with film and keep in the fridge up to 7 days
2:Roll it to the shape and brush some oil the put in between two films to keep in the freezer for up to 30 days
Here you go.
It seems many steps, but it's actually quite simple and easy.
This Scallion pancake is more like the ones in Yi Lan, Taiwan, and it's slightly different from the one that is very thin one. But if you fry it nicely, it's crunchy outside, and soft inside! Yummy.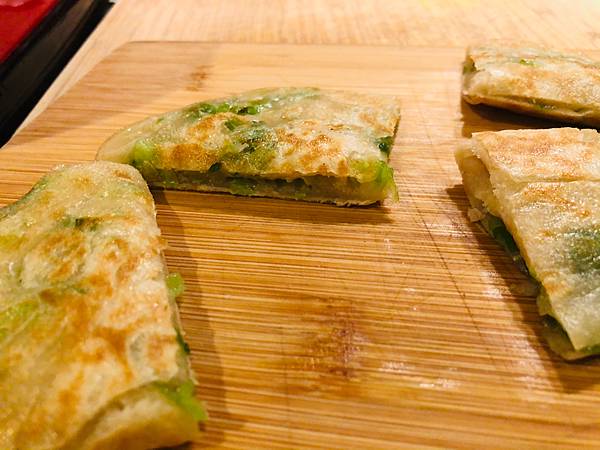 Daddy Q feedback:
Yum, eat with sweet and spicy sauce <3
Baby Luca's feedback:
He ate all his portions!
Mummy V note:
It's easy and simple, and people seem to like it a lot. So I think it's a success! <3