Last time we talked about the cold dishes, Mummy V also made this dish "Chicken with Scallion Oil" (蔥油雞) which is a very delicious dish. Personally Mummy V like this dish cold, but it can also be served hot. Both are great and different tastes.
Read this in Chinese
Since I like it cold, I am going to go an extra mile to describe how it tastes – cold chicken with a bit jelly (from its own juice after steamed), the poured Scallion Oil on top gives the chicken a great flavour and smell. It is a perfect dish for summer – it is fresh, easy to eat and frankly speaking, quite healthy too.
Anyway, let's have a look at the served pictures.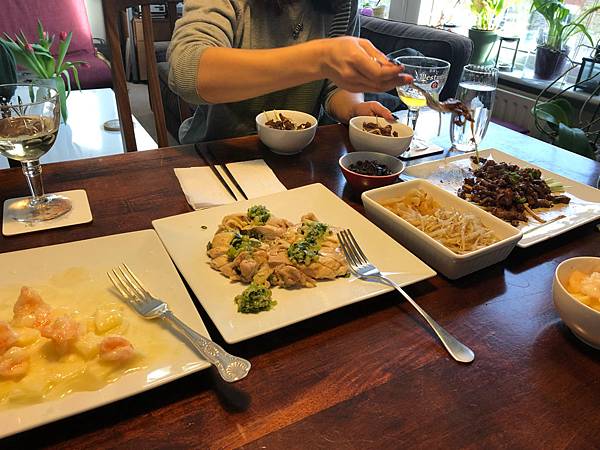 ​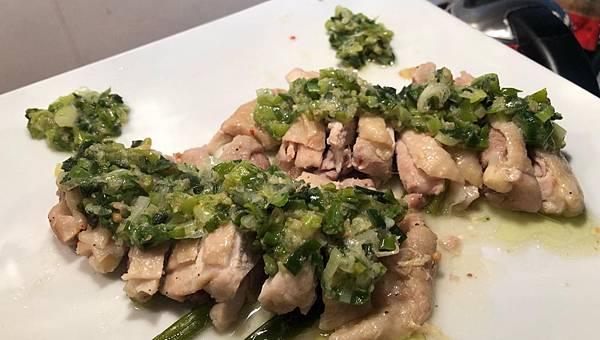 ​
Ingredients 
Chicken legs – 2 (I got them from Waitrose – so it's the big one, not just the lower part!)
Marinaded Sauce
Spring onion / Scallions – a few
Ginger – a few pieces
Rice wine – 1 table spoon
White pepper powder – some
Salt – 2 tea spoons
Scallion Oil
Chopped scallion – half bowl (Mummy V actually made a bit more as Scallion Oil is good with rice, noodles too and you can keep them separately in the fridge.)
Oil – 1 table spoon (I use olive oil for this time, but other vegetable oil works too)
Sesame oil – 1 table spoon
Ground ginger – 1 table spoon
Salt – some
*The ratio for chopped scallion, oil and sesame oil is 1:2:2. So depends on how much scallion you prepare, use the right amount of oil and sesame oil for it.
Method 
1。Chicken legs – remove the bones! In Taiwan, you can ask butchers to remove bones for you, but in London, well, work on it yourself I guess. This dish is better with the skin, so can't buy those boneless chicken thighs as they often also come without skin.
*If you really want to make it "super healthy", you can also remove the fat bit! Mummy V likes the fat bit, so – let me be lazy~~~!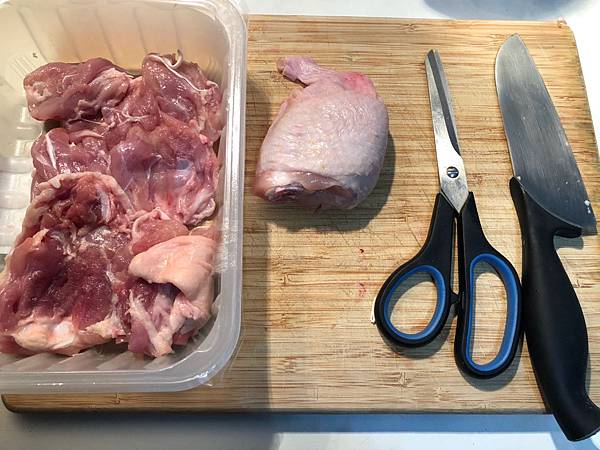 ​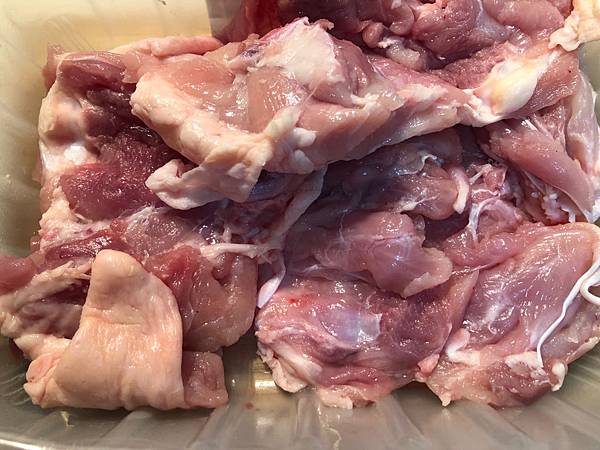 ​
2。"Massage" the chicken with marinaded sauce! (Lucky chicken!) Need to do it evenly and each part, so the sauce will get into the chicken. Otherwise it will be too plain. After massaging, cover it and put in the fridge for at least 3 hours.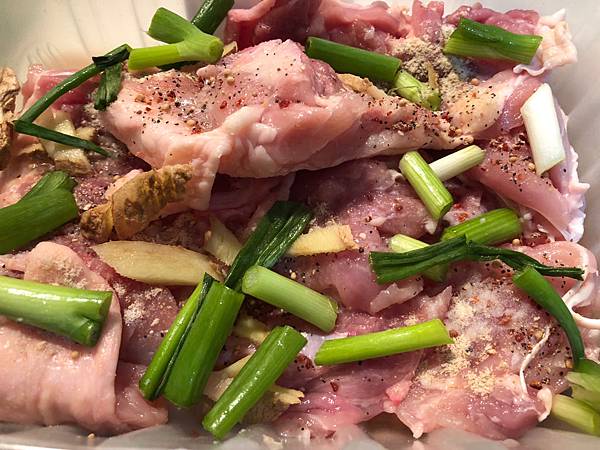 ​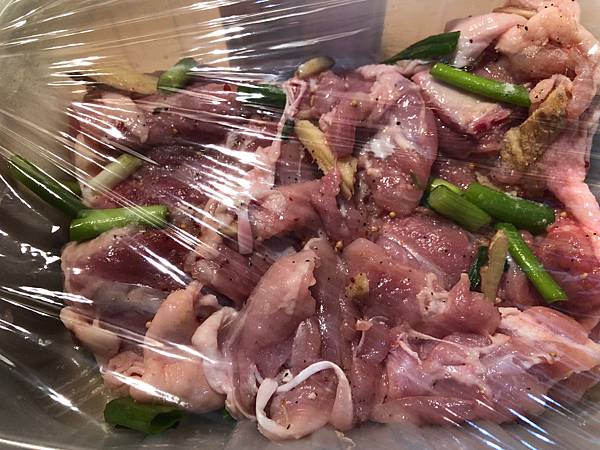 ​
3。After staying in the fridge for 3 hours, steam it till it's cooked and keep it covered for another few minutes.
4。While steaming the chicken, let's make scallion oil. Mix two oils in the pan till it's hot, pour into the bowl with chopped scallion and ground ginger and mix them.
*If you want to keep the scallion oil for other dishes or rice/noodles, you can also add some salt to make it a bit salty – it's great to eat with rice as well as mix with some noodles! But if you only want to do it for the chicken, don't add too much salt as the chicken is already marinaded.
*After finishing steaming the chicken, there would be some juice around, pour 1 table spoon of juice into scallion oil – that will give it a even nicer flavour. Mummy V also kept the rest of the juice aside – after putting in the fridge, the oil and "soup" will separate, and can use them to cook some soup, stir fry vegetables etc.
5。Leave the chicken to cool down – easier to chop to pieces and then pour some scallion oil on – that's all~!Serve!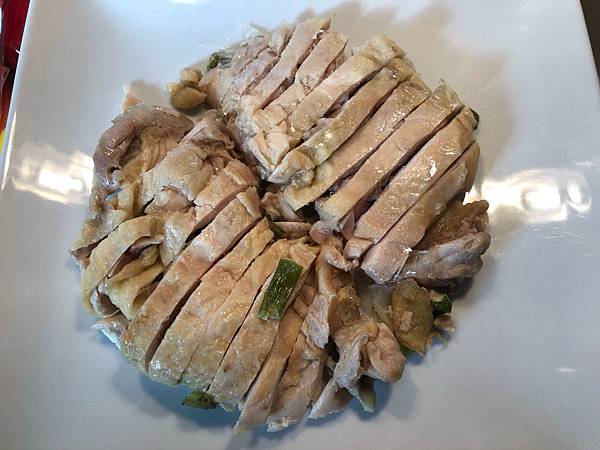 ​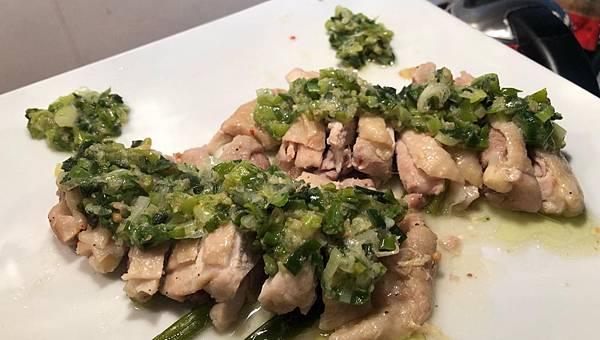 ​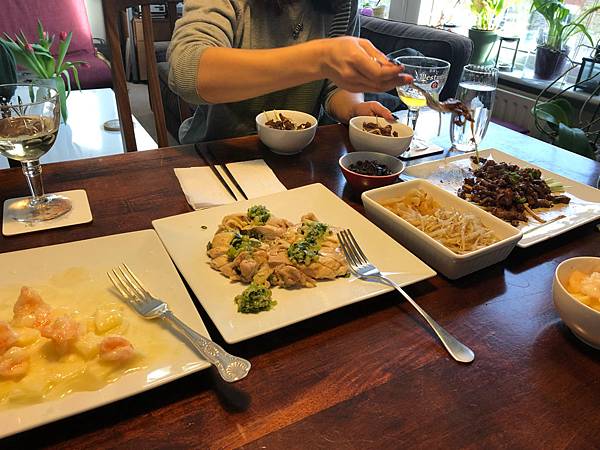 ​
Daddy Q feedback:
Chicken is fresh! And taste good! Oh the scallion oil mixed with noodles was really nice! (yeah and Daddy Q just finished all my scallion oil!!!)
Mummy V note:
The most "annoying" part of making this dish is to remove bones! Otherwise, this is also kind of a lazy dish?! Also, making it once and I have scallion oil, and chicken oil/juice – Mummy V used the chicken oil/juice to stir fry vegetables – tasted so much better than just fry with normal oil.
With this dish and the Bean Sprouts Salad, it helped Mummy V to serve 4 dishes almost at the same time  when friends were over for lunch – totally gave the fake impression as if Mummy was a sort of professional chef! (Muhahahahaha.)