Mummy V loves tarts. All sort of tarts, berry tarts, lemon tart, almond tart… all my must-order in the pastry shops.
Driven by this, Mummy V has been trying to learn to make yummy tart pastry! (Oh, yes, forgot to mention, Mummy V loves tarts because of the pastry part!)
Today, I've decide to make the blueberry tart 🙂 Sweet and sour at the same time, one after one, nonstop…mmm…blueberries.
Daddy Q also said that he likes tarts and he likes blueberries…so yes, he likes blueberry tarts… (Not quite sure if 1 + 1 = 2 applies here, but oh well.)
Thus, it was decided.
There are so many types of blueberry tarts, and Mummy V decided to make fresh and not heavy one, which means no flour or cream for the filling. Why? Sometimes the ones we bought from the shops are rather heavy – it is delicious but always makes you feel guilty after eating it. So the one Mummy V made might make you eat one after one as it doesn't taste heavy 😛 But it is probably as dangerous too! (Hahaha!)
Let's have a look at the finishing product.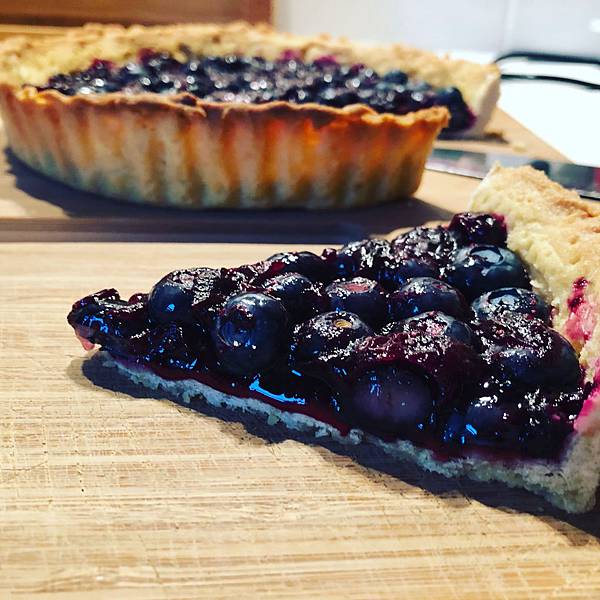 ​
​Oh, did I mention, Mummy V is a beginner baker! So please don't judge me too hard!
Ingredients
The Pastry
Plain Flour – 250 g
Unsalted Butter 125 g
Yolk – 2
Icing Sugar – 70 g
Blueberry filling
Blueberry – 2 boxes (From Sainsbury's, 200 g a box)
Lemon juice – 20 g
Sugar – 40 g (add a bit more if you don't like the sour taste.
Method
1。Put 1 box of blueberry after washing together with lemon juice and sugar to a sauce pan to slow cook. Remember to stir it at the same time, so it doesn't burn. Cook till preferred texture.
Feel free to adjust the sugar by your personal taste.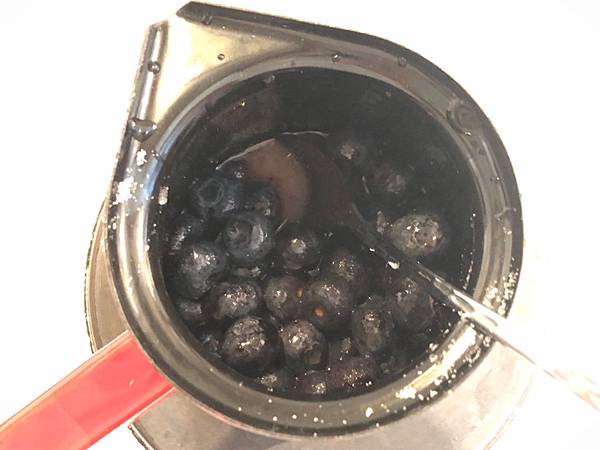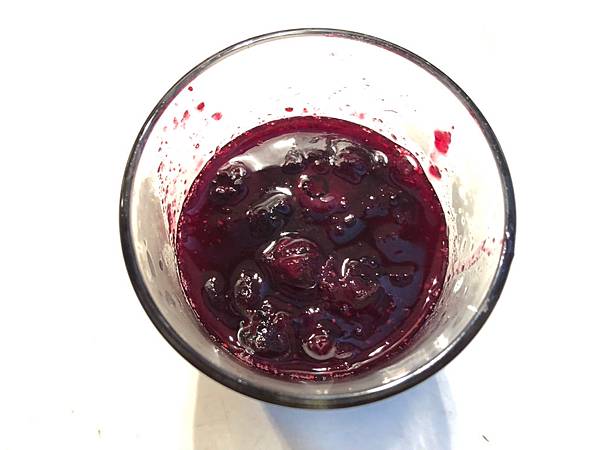 2。Making the pastry: Mix flour and icing sugar in a big bowl, and add butter in to mix / massage them till butter turns soft. Add yolks in and carry on making the dough. (Be patient!) If it is too dry, add 1 tablespoon of water, but adding it bit by bit so doesn't make the dough too wet. Carry on till until it comes together. Roll into a ball. Flatten out the pastry with your hands, wrap the dough in cling film, then chill for at least 30 mins. 
3。Take the dough out of the fridge and roll it out on a lightly floured surface to about the thickness of a £1 coin, then lift into a tart tin. Press down on the bottom and sides, then trim it to the right size if it's too long out of the edge. Stab a few holes in the bottom and sides with a fork and put back in the fridge for 30 mins. However, Mummy V really recommends to leave it in the fridge for at least 1 hour!!!
My sad experience / countless failures… Some recipes told you just 30 minutes, but my personal experience told me at least 1 hour to 90 minutes! Why is that? If you only have time to leave it for 30 minutes, you need to leave extra pastry on the sides without trimming them too short / close to the edge of the tart tin – BECAUSE they will shrink! That is my painful experience! (Tears~~~) The problem is, if you leave the sides too long/tall… it might fall, and bend then break… It is just hard to find a way to win it properly! (I am sure there must be another way) So Mummy V now always leaves it in the fridge for longer and it doesn't cause any trouble! Oh lovely!
4。Pre-heat the oven to 180 degrees and take the pastry out and put a baking paper rubbed baking paper on the pastry and baking beans on top of it. Bake for 15-20 minutes (If you make the pastry quiet thick, better 20 minutes.) If it's like the one below, 15 minutes will be enough, then remove the baking beans and paper and put it back to the oven for another 15 minutes. Then just remove it from the oven and let it cool down.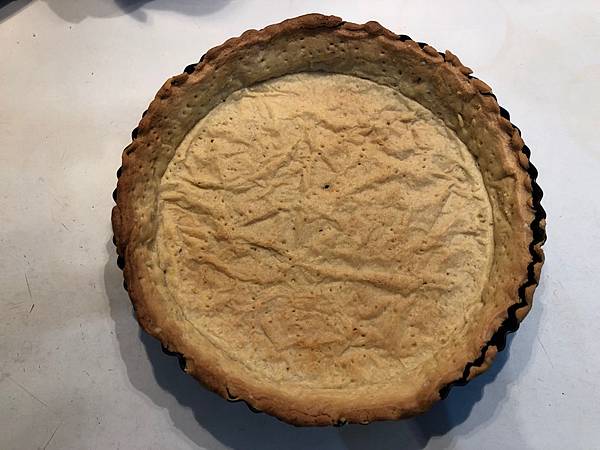 5。Once the pastry is cold, put a layer of fresh blueberries (200 g)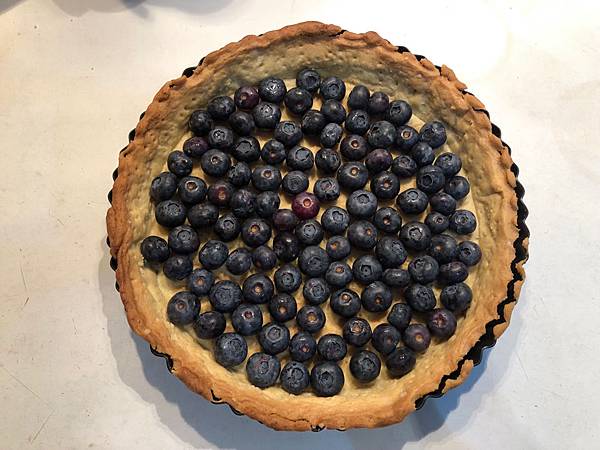 ​  6。Pour the filling in and spread it even and then put in the fridge for at least an hour. Da La, time to serve!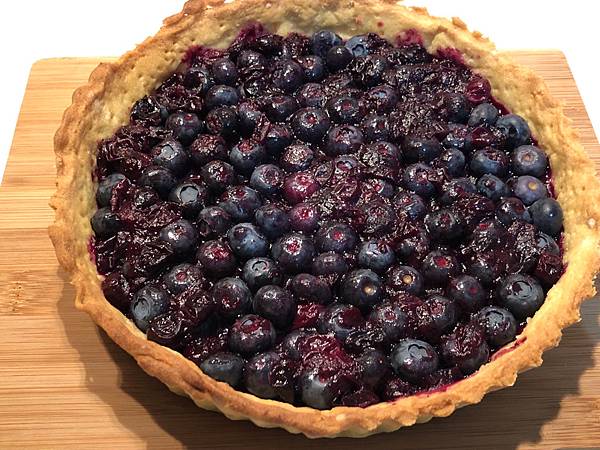 ​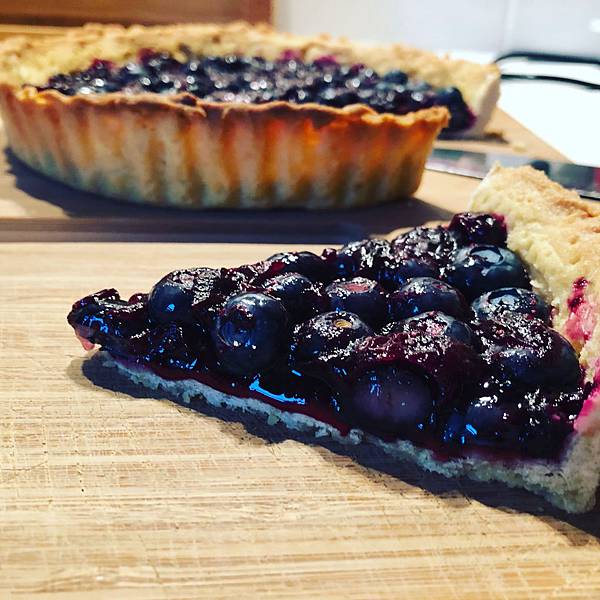 ​Daddy Q feedback:
Who?! Who killed two pieces of it?! Who? It's not me!!
Mummy V note:
This is the type without flour or cream, so the filling is more "watery" but it is fresh and tasty. Perfect to eat at home. However, if you want to bring one piece for your friend, it would be better to add some flour/cornflour in the filling so the blueberries will behave and stay where they should be!
Have fun trying!