Baby Luca is Mummy V's first, so I have been struggling if I should take some professional maternity photos in case I can't have a undisturbed birth…then I might have a scarred belly!
BUT! It's so expensive! There are so many traps online – cheap shooting but expensive photo packages! It is going to cost £400 minimum. Not that they don't worth it, but simply Mummy V and Daddy Q don't have this budget… most budget is saved for Luca's arrival, not me T___T
Thus, we decided to DIY.
DIY, sounds very cool? Yeah, but of course there are some preconditions…
1。You have some friends who are very into Camera so you can borrow from them.. Thanks to Ketty, my Thai friend lent me a good camera!
2。Your company / friends have lighting set for you to borrow – Thankfully Mummy V sometimes does some interviews for the company, so it was rather convenient.
3。You have a 2.5 m * 3.5 m space (living room or bedroom that you can move stuffs around to clear the space) at least so you can set up the "temporary studio" yourself. Daddy Q moved our sofa bed aside and create the space <3
4。Order backdrop from Amazon (We order this one,£28.99)
5。Having a HANDY Husband 😛 (I do have to give a great deal of credit to Daddy Q~ he has been wonderful!)
Looking at 1 to 5, Mummy V had got all the essentials we needed for this photo shooting!(OH yeah~!)
So, at my busy 34th-week pregnancy, we saved a day to try this and to create some artistic memory for my bump.
Firstly, let's have a look at our "low-cost photoshoot studio"!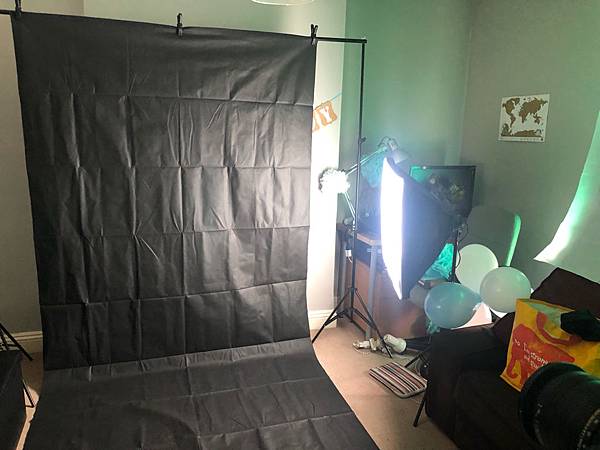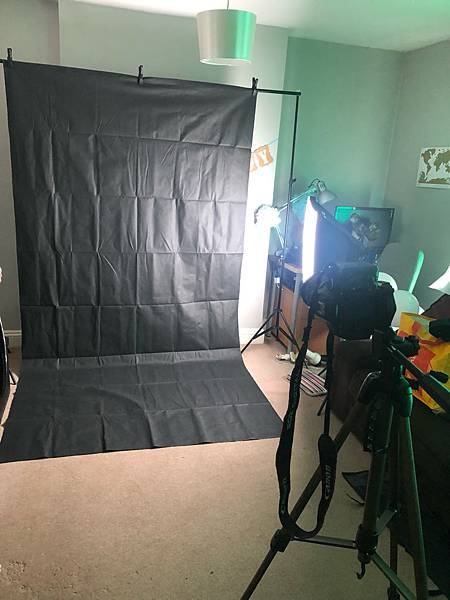 Super low cost~ As we didn't have heavy curtain in the living room, Daddy Q had to use a few cloth to cover the window. It was a shame we couldn't completely block the daylight so Daddy Q had to spend some time editing photos afterwards.
Mummy V had done some homework, so I knew clearly what styles of photos I would like to have and had some discussion with Daddy Q to see if those could work. The photos I liked were professional ones – probably not that easily to duplicated by us amateurs after all. (That's what they do for a living, right~)
Most photo styles Mummy V liked were rather "Artistic" not those ones looking at the camera smiling ~ Mummy V liked those black/white professional exhibition style photos (haha! So ambitious, I know!)
This matched Daddy Q's taste too – well, he is a designer after all – at the point, Mummy V felt really lucky that Daddy Q is a designer 😛
Here we go! Let's have a look at so-called "professional exhibition" styles.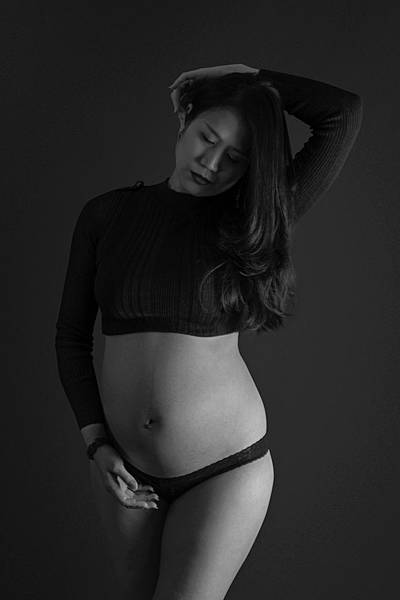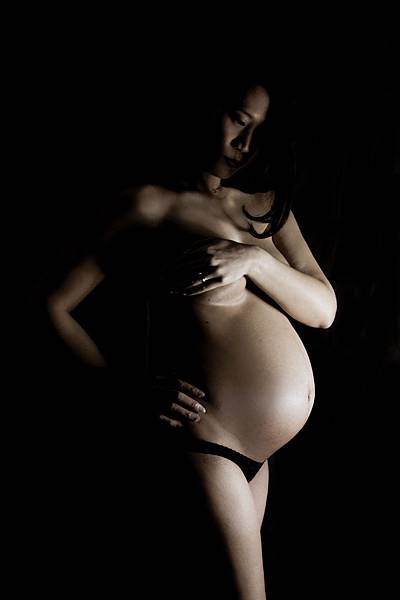 ​Of course, these are what was after Daddy's Q's editing after. BUT Daddy Q said that he DIDN'T "touch" Mummy V at all, only fixed the background and lighting. (I guess he was trying to tell me I looked great without editing <3 Hooo… my sweet Daddy Q…)
He is a perfectionist in this type of work, and completely different from Mummy V who would have just enjoyed the iphone photos hehehe… but he really made the photos so professional and classy <3 (I know, I am luck
But I'd like to think that I also contribute a lot!!! (Except providing my bump belly!) Mummy V also contributed some creative ideas!!!
Mummy V just had a Baby Shower last week, and I have kept those decorations for some creative photos including balloons, pompons, "Mummy To Be" sashi, gifts from friends…
With all these very personal items, we created some fun photos that belong to just us. Not that artistic, but all wonderful memories.
You can see from the photo below, everything could be in the picture with just a little creativity <3 and this will just be the memory of yours.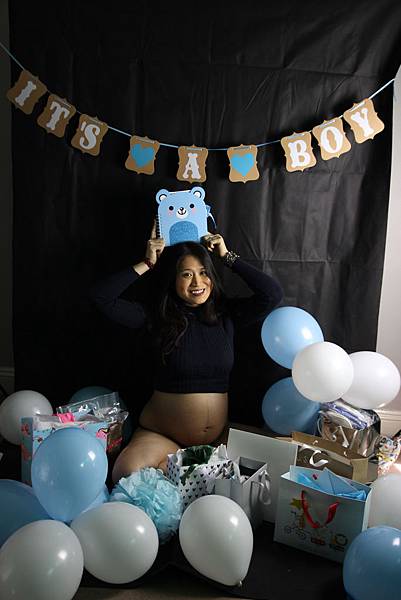 ​Except this, as Mummy V insisted not to buy expensive clothes for pregnancy – you can only wear for a few months! The whole pregnancy I only got ONE Branded maternity/nursery dress. But there are still many tricks/tips not to spend too much money to dress up nicely.
Look at the dress below – good quality and classy – and no one could have guessed how much Mummy V spent on it! But wait for me to write and share "How to save money during pregnancy!"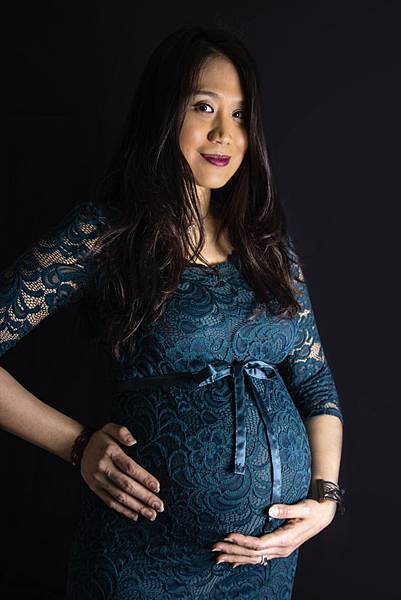 Finally, the photo below is a "wonderful surprise."
Mummy V spontaneously asked Daddy Q to get his white shirt out and took this one with his shirt and guitar~isn't it cute and nice?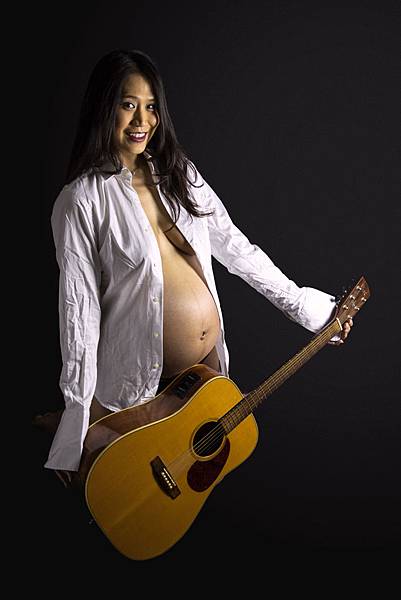 ​From the moment to move around setting up the camera, backdrop… Daddy Q took around 30 minutes and Mummy V, of course, was doing my own make-up, hair…
After starting, we totally took around 3 hours as we had to keep adjusting the light, the angles, changing clothes, items….
At the end we took around 200 photos~it was actually fun but really tiring! And too many photos to choose at the end!
Having said that, Mummy V told Daddy Q from the beginning as long as we had one photo great, I would be happy <3 and which we did have more than one!
The outcome was brilliant and we saved more than £400 to have such great results. I am so very happy <3
Daddy Q's note:
Forgot to iron the backdrop… that had made the photo not as good as it supposed to be which became much harder work for Daddy Q to edit after! (You can see the background in the photos before and after editing)
Mummy V's note:
We didn't really prepare enough as lots ideas were really spontaneous such as the white shirt… without ironing it looked…. I so wanted to ask Daddy Q to photo-iron it! but … I believe he would have gone insane if I asked… so let's just keep it as how it is maybe…
Even though, we had a great time on the day and we love the photos very much. It was a blessing to have this memory before Baby Luca is here, so I can show him and tell him that he used to live in that bump!
Mummy V hope that I could have a undisturbed birth and then recover my energy and figure. After a few months, I could have the same photos but without the bump but a healthy baby boy instead!