After being pregnant, one close friend proposed to organise the baby shower for me after another. That made Mummy V feel really warm and toughed. (Ever year, Mummy V is the one organising her own birthday party and Xmas party! This is really the very first time someone else organised some party for me!)
Baby Shower in the name of "baby", it is "a party of gift-giving or a ceremony that had different names in different cultures. It celebrates the delivery or expected birth of a child or the transformation of a woman into a mother." (quoted from Wikipedia)
There are similar "baby shower" ceremonies in many cultures. Traditionally speaking, this is an event for women only, but nowadays many people have changed for both genders – just a wonderful occasion to gather the loved ones/friends together.
Two close friends have known each other at Mummy V's birthday party so Mummy V asked if they would organise it together – both are close friends and I really didn't want to have to choose one for it.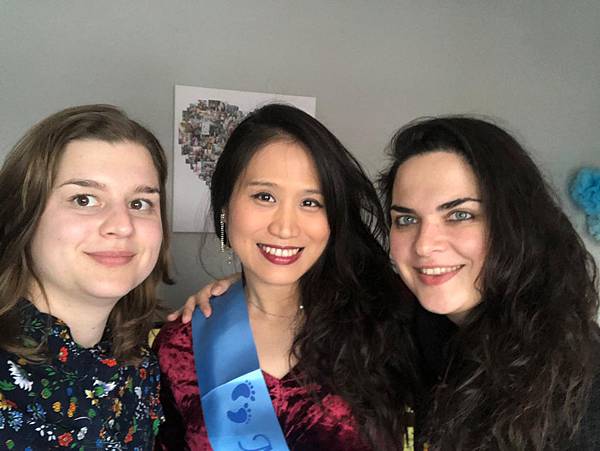 Mummy V is not someone particularly traditional, but I do enjoy some traditions so only females were invited to this party! And that was the only thing Mummy V did for the whole event! Inga and Margarita (my two closer friends) had done all the rest including designing the activities, choosing and ordering a cake, sorting out some nibbles and decorating the living room.
On the day, two girls arrived two hour prior to the event to decorate the room, and even prepared a "Mummy To Be" sash for me! I felt the spotlight on me the whole time!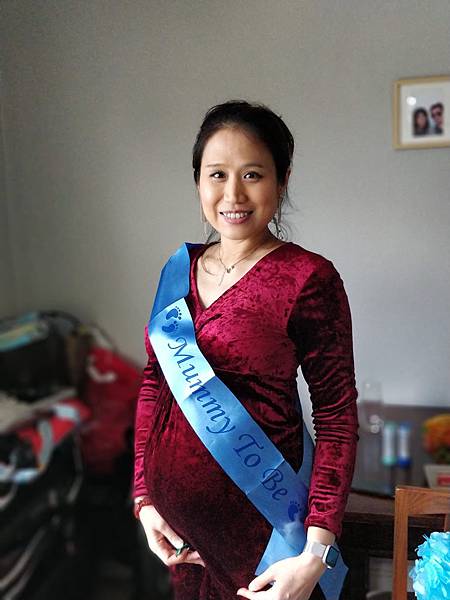 ​They also prepared a lot of blue and white balloons and pompons, reflecting the sex of the baby! Of course, they also hung the sign of "IT'S A BOY"!
There was one activity "Guess who is the baby" – Every guest was asked to bring a photo of themselves when they were a baby and all photos would be displayed and everyone would be guessing which baby was who.
I've got to say, that was difficult! Especially for new-born baby photos! Totally no clue! But there were a lot of fun and surprises.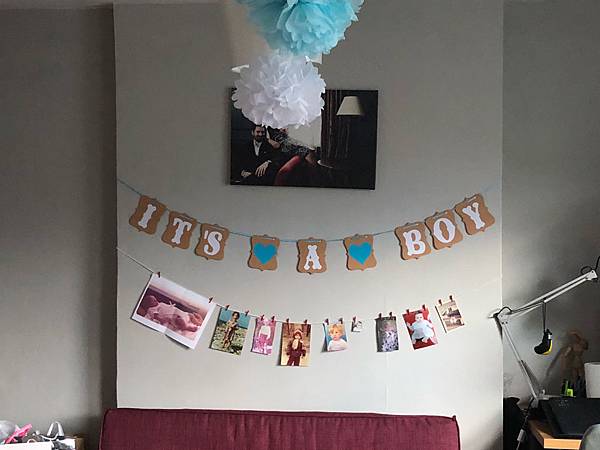 ​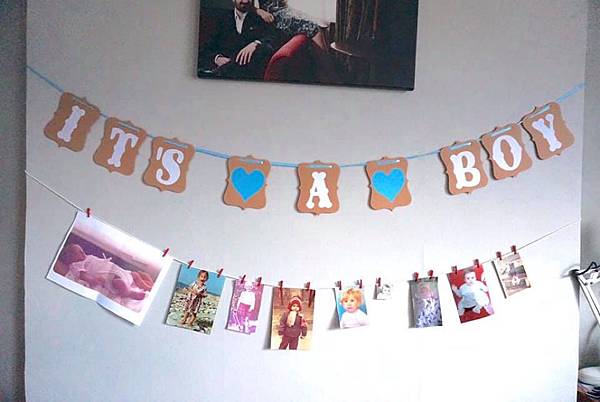 ​
There was also an activity for guests to write down some wishes for the baby and write or draw something in the "Baby Book".
That was the only "quiet" moment – Imagine, 12 women in one room! Yeah, it was just as you could imagine, however, the moment everyone was writing the note, it was QUIET! Also made Mummy V wonder if that was the special design by the organisers. (LOL)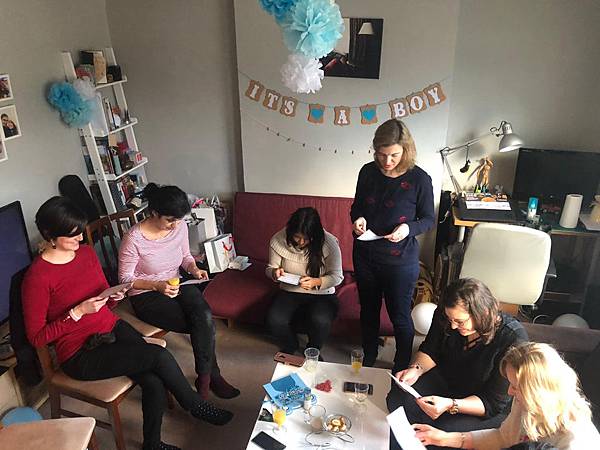 ​What worth mentioning is that there were totally 12 nationalities in 12 ladies plus Daddy Q! London, what a city!
The countries were the UK, Hungary, Russia, Algeria, France, Poland, Argentine, Japan, Thailand, Latvia, Taiwan and Belgium! How cool!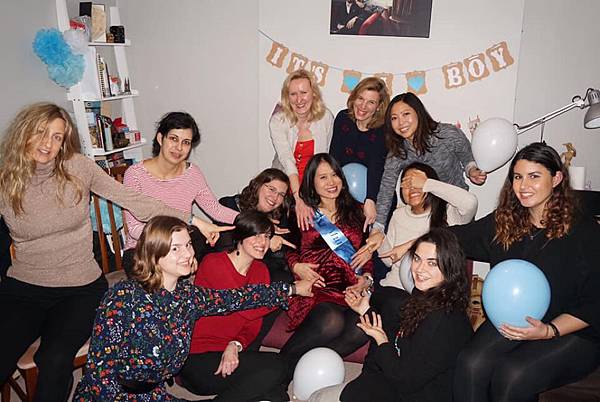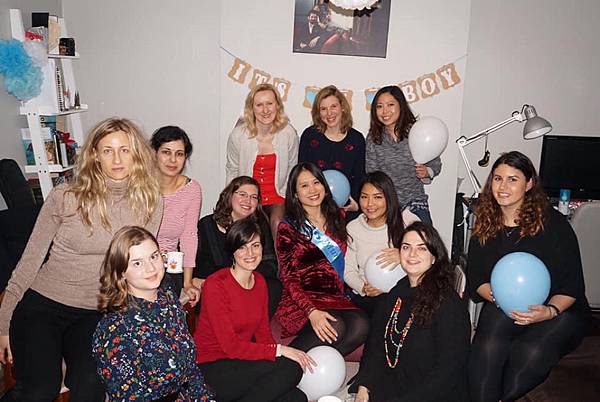 Every guest also prepared very nice thoughtful gifts for our Baby Luca – even before he arrives! Lucky you Luca! ​  ​    
At last, one of the baby shower tradition – the CAKE. I've got to say – it was a wonderful cake, so so yummy! Inga was so worried about the cake – but the truth is – she didn't have to – because it was just perfect.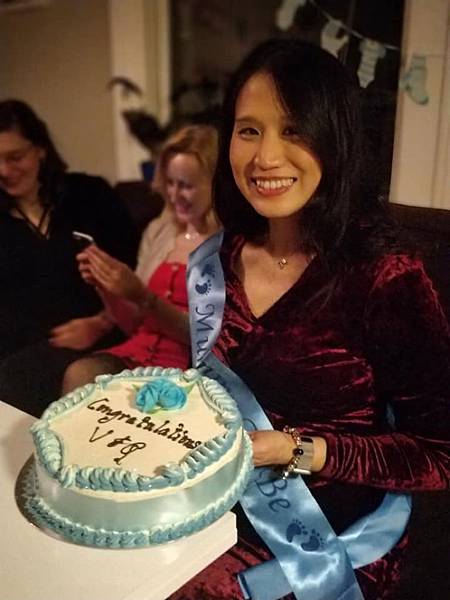 At Mummy V's 33 weeks 3 days pregnancy, so many good friends were here for this big life-changing celebration… They brought so much friendship and love to me and this family. That meant just so much to me.
7+ years in London without family in London (Except Daddy Q), Mummy V has built a life with so many friends around me with love. That is something I always appreciate and feel grateful…
Baby Luca, in a few more weeks, you will come to this world and Mummy hope you would feel that you are just a very lucky little baby – with so many aunties by my side look forward to meeting you!